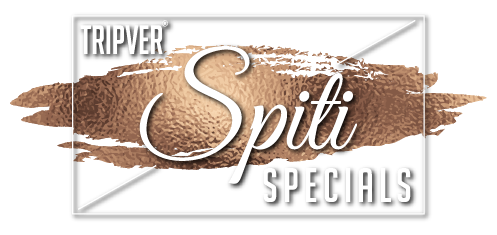 An ancient Himalayan kingdom so unique that it was kept a secret for centuries. If you are a true explorer and want a life changing experience, this winter expedition is your calling.
₹ 29999
Limited Period Price Including Travel From Delhi !
Spiti Winter Specials
Tap to Know More
"Spiti" means "The Middle Land", i.e. the land between Tibet and India. An explorer centrist trip curated for travelers who would like to explore not visit this unique region of the world. Home to the worlds highest post office, village, unexampled moon Shaped lake, unique flora & fauna & yes a culture that will leave you mesmerized. The explorer itinerary covers Narkanda, Kalpa , Kaza, Tabo, Langza, Kibber, Hikkim, Chandratal, Old Manali & more.
---
Tripver x Locals | Pay only 3000 to reserve
4 Days Office Leave Required
29999 Only | Customized Options Available
With good vibes and beauty to boot, we'll start our Spiti Road Trip from Delhi. Hop into our buses after office hours (between 8-10 PM) and stop en-route for Dinner. Meet co-travelers, say hi, and socialize during the overnight chilled-out journey.
Note If you are arriving in Delhi from other cities a Tripver™ curator will help you plan the perfect transit, call us on 1800-270-1447 we are always happy to help 🙂
Day 2 : Mountains & Jhakri Mist
Wake up to the chirping of birds and the fresh mountain breeze hitting your face. After a morning chai & breakfast, continue your journey to reach Jhakri in time for Lunch. A quick power nap in your cozy beds will recharge you. This is a chilled-out😇 evening. Depending on what your adrenaline levels are like, you can take walk around the Satluj river post power nap, or just laze around with a sunset view in the backdrop of the Himalayas. Just take it easy #metime to rejuvenate on the first day of your Parikrama.
Highlights Jhakri, Mountain-scape & Warm Welcome
Day 3 : Chitkul/Sangla Ascend Starts
We set out early morning post breakfast to Chitkul. What makes this stretch of the journey so scenic is the fact that the road we take which leads to Chitkul runs parallel to the river Satluj for part of the journey. We stop by for #basic yet scrumptious Rajma Chawal at the famous Dhabas. We reach Chitkul, just in time for some evening tea to be followed by a walk to explore 'India's Last Village before China'. Early evening dinner is key to getting adequate rest before the long journey that follows ahead on the next day.
Highlights Rajma Chawal, Chitkul, India's Last Village Walk, Road Trip.
Day 4 : Nako/Tabo Village
After you wake up to the view of 'White Spiti' we start the relaxed ride with a quick stopover for Lunch followed by a scenic drive. In this part of your journey. just when you think the view along the road can't get better, the shape-shifting horizon will prove you wrong. Arrive at Tabo Monastery (11,000ft approx) also known as "the Ajanta of the Himalayas", well before the sunsets. Continue the journey to arrive at your humble abode in Tabo(12,000ft approx) and rejoice at your arrival by chilling by the bonfire & treat yourself to a hot & appetizing dinner, then dive into your cozy beds for a well-deserved rest.
Highlights Extraordinary Views, Nako, Tabo Monastery & Bonfire
Day 5 : Kaza Action Packed
By now you know, this is not a lazy trip, so wake up early to grab a satisfying breakfast and get started to make the most of the day ahead. Mix the ride in the mountains with a maggie break and the mandatory quick Group Insta Post. We'll welcome you in Kaza with a wholesome dinner and a bonfire to keep yourself cozy & merry at night while stargazing.
Highlights Key Monastery, Langza, Medicine Buddha, Hikkim, Kibber
This is your chill day. Early risers can take a walk and enjoy the sunrise or simply wake up late. We begin with a visit to Key Monastery, the biggest monastery of Spiti Valley, and a religious training center for Lamas. Follow it up with a visit to Langza (14,500ft approx) and truly experience a heavenly feeling. Mail postcards to loved ones from Hikkim, the world's highest post office, and the perfect pause at Kibber, the World's highest village to return straight for a tasteful dinner.
Highlights Key Monastery, Langza, Medicine Buddha, Hikkim, Kibber
Day 7: Journey to Kalpa/ReckongPeo
Scenic roads- check! Quaint settlements- check! Picturesque settings- Check! Road trip goals- On Fleek! This day is going to be all about 'postcard settings'. As you grab your breakfast, hop on to another ride to Kalpa. With small breaks during the journey, amidst the mountains and by the side of the river, by sunset find yourself at a place where beauty and tranquility will literally leave you speechless. Reach your homestay, and enjoy your dinner under the stars and call it off a day!
Highlights  Ride to Kalpa, Snow Valley, Road Trip Goals
Today is going to be a long road trip kinda day, but one hell of a ride! After early breakfast hop on to your vehicle and start your journey to Shimla. With scenic roads, twists and turns, witness the mountains as they turn from rough brown to pine green. Grab your dinner at a roadside Dhaba and take a break from the long journey as you wait to hop on to your comfy Volvo for an overnight journey back to Delhi.
Note In case you are willing to spend some extra time in Shimla exploring around, call us on 1800-270-1447 & we will be glad to customize it for you
Arrive back in Delhi in the morning with new friendships and bucket loads of memories. Miss this trip forever!
Total Nights

 8 Nights – however this trip is designed in a way that it starts after office hours on day 1 and you reach back before office hours on day 9. So technically you need just 5 days of office leave.

Total Distance

 1800 K.M (Apx)
All

inclusions

,

exclusions

&

prices

are mentioned on the booking page.
We love you, therefore our team of

hospitality professionals, locals

 &

regional experts

have spent thousands of combined hours creating this itinerary.
Unlike others, Tripver™ has its

own network of Local Transportation liaisons

& propitiatory strict

accommodation quality audits

to ensure a seamless experience.
We would

love to help you

out with transit from

anywhere across the world

or

any modifications

that you may need, just call us on 1800-270-1447 (

24 Hours

| Toll-Free) and a trip curator will assist you.
The itinerary may be modified to accommodate changes in weather and any other factors.
Exclusive trips 👆 curated by your favorite influencers, experts & travel heroes 😎
Your pick the date, you pick your style and we make good things happen ! 🔥
For customized options across 200+ destinations & 25+ countries call 7652 848484 (24 Hours)
One or Zero Days Office Leave Required For 4 Day Trip
Limited Seats on Weekends

Lowest Price Guarantee
Find the same trip at the cheaper price and we will give you a lower price + extra cashbacks ! *

Hassle Free Payments
Instant Bookings & stress-free payment modes including TravelNow PayLater, go on that trip now and pay in easy installments

The Best Support Ever !
Probably the only Online Travel Platform where you can talk to a human ! so go ahead talk to us on 7652 848484, anytime 🙂