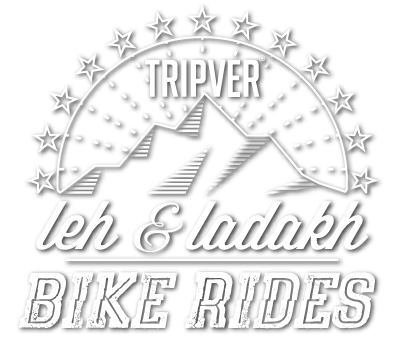 RIDE IN STYLE
Ride the Leh Highway, the fabled roads of Ladakh on bike and fly back to save on time
Duration 5 Days | Start & End Leh Airport | Cross 2 Mountain Passes & Distance of Approximately 1000 Kilometers
Rider Explorer By Tripver™
---
Available on select weekends from June to October | Pay only ₹2000 to book.
5 to 6 Days Office Leave Required
Limited Seats Only
More
A biking trip curated for individuals who would like to travel to one of the most geographically unique regions in the world. Home to 3 of the 5 world's highest motor-able passes, high altitude deserts, unexampled mountainous saltwater lakes, unique flora & fauna & yes a culture that will leave you mesmerized. The backpacker itinerary covers some of the greatest highlights of Leh & Ladakh.
The dream starts 🙂 we will have your room in Tripver Leh Stay ready perfectly in time for your arrival. Once you have settled into your rooms, enjoy a hot cup of coffee whilst admiring the mountains and the simplicity of this town. Since Leh is situated at a very high altitude, today you must rest and let your body acclimatize (Mandatory Medical Requirement). As the sun sets you may take a short walk and get a feel of the town followed by a happy social dinner with your travel mates. Crash into your cozy beds by night for awesome sleep.
Highlights Leh Town, Stok Kangri Views, Social Dinner & More
Today, fresh breeze from the Indus and the chirping of the mountain birds will wash away the fatigue and bring happiness. The Tripver captain will start your day with breakfast, walk down the streets of the old-town dotted with hidden bakeries to grab a bite. By the time you are back, our Local Leh drivers will be waiting to show you around their town. By early evening we would have visited all the highlights of this magical ancient town and a lunch break. In the evening you may hop around the town enjoying quaint cafes & old bazaars. Just before dinner, you will be handed over you mean machines 😎
Highlights Breakfast Walk, Shanti Stupa, Magnetic Hill, Zanskar Confluence, Leh Palace, Patthar Sahib, Army War Museum, Leh-Kargil Road & more
Kick start your machines ! we commence the day early and will ride through the same tracks that formed a part of the Ancient Silk Route 😎 . Crossing the mighty Khardungla Pass (We pause here for quick Instagrams & a sip of tea at the army canteen) we reach the Nubra valley. Your swiss tents will be waiting for your arrival, after a power nap you can head out to the Sand-Dunes for a Bactrian Camel ride, high altitude dune bashing or just relax. Let's make the day even better with a warm bonfire, a round of happy reminiscent games followed by dinner.
Highlights Khardungla Pass (18,379 Feet), Army Canteen, Diskit Monastery, Hunder Dunes, Bonfire Evening, Nubra Swiss Camps, Pullu & more.
Day 4 : The Pangong Dream
After breakfast we ride towards stuff that dreams are made of ! the ride today is along the Shyok River (weather permitting) an extraordinarily beautiful terrain. The unreal blue colours of the Pangong welcome us as much as our swiss campsite near the Lake, spend the evening just awestruck with the beauty 😮 or take a walk to the tiny cafes serving steaming momos. After an early dinner spend the evening with your travel buddies listening to music in the backdrop of a majestic 'moonrise' or just counting stars (unlike anything else)
Highlights Durbuk, Shyok, Agam, Tangste, Pangong Lake, Stargazing, Moonrise & Pangong Swiss Camps & More
The Captain will take the early risers for an #Insta walk along the coast of Pangong Tso. Shortly after breakfast, we will ride back to Leh town through Chang-La Pass where we can have a quick break to soup up on Maggi ! We stop by at the Thicksey Monastery & Rancho School and by late afternoon we can retire at our rooms and the ones with high energy levels can explore the town and its markets. For dinner head out to a Tripver™ Select Cafe for an authentic Wood Fired Pizza :D, it can't get better than this ! Spend the night chilling with your travel buddies and making merry.
Highlights Chnag La Pass (17,590 feet), Thicksey Monastery, Rancho School, Changspa Road, Wood Fired Pizza & More
In the morning, your hosts will bid you a fond goodbye as you leave for the airport, 🙁 nothing will ever be the same anymore after this life changing experience Miss This Trip Forever !
Total Nights

5 Nights – however this trip is designed in a way that you need just 3 days office leave, with a day prior to the trip to pack & prepare and day afterwards to recoup.

Total Distance

600 K.M (Apx)
All

inclusions

,

exclusions

&

prices

are mentioned on the booking page.
We love you, therefore our team of

hospitality professionals, seasoned riders, locals

&

regional experts

have spent thousands of combined hours creating this itinerary.
Unlike others, Tripver™ has its

Partner Bikes Specifically Modified for Leh, Experienced Mechanics

& propitiatory strict

accommodation quality audits

to ensure a seamless experience.
We would

love to help you

out with transit from

anywhere across the world

or

any modifications

that you may need, just call us on 7652-84-84-84 (

24 Hours

| Toll Free) and a trip curator will assist you.
The itinerary may be modified to accommodate changes in weather and any other factors.
Exclusive trips 👆 curated by your favorite influencers, experts & travel heroes 😎
For customized options across 200+ destinations & 25+ countries call 7652 848484 (24 Hours)

Highest Safety & Quality
Our safety standards are far superior than anyone else, do you want a lower price or safety ? your choice

Hassle Free Payments
Instant Bookings & stress-free payment modes including TravelNow PayLater

The Best Support Ever !
The only Online Travel Platform where you can talk to a human !talk to us on 7652 848484, anytime 🙂