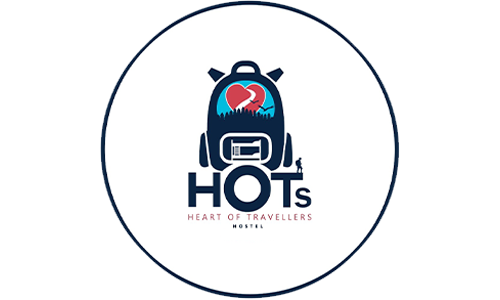 KASAR DEVI – ALMORA BY HOTS HOSTEL
Tap to Know More
HOTs Hostel is a chain of unique, design-led, theme-based experiential hostel situated in unexplored locations. Kasar Devi is a village near Almora, Uttarakhand. It is known for the Kasar Devi temple, a Devi temple, dedicated to Kasar Devi, after whom the place is also named. The temple structure dates to the 2nd century CE. Swami Vivekananda visited Kasar Devi in 1890s, and numerous western seeker, Sunyata Baba Alfred Sorensen and Lama Anagarika Govinda. A place also known for Crank's Ridge, just outside the village, which was popular destination during the Hippie movement of the 1960s and 1970s, and continues to attract trekkers and tourists, both domestic and foreign.
---

1 or 2 Days Office Leave Required
Price Starts at ₹2,300 – Limited Seats Subject to Availability
Arrive at kathgodam railway station or bus station from Delhi (around 285 km from Delhi). Onward drive to HOTs
Hostel Kasar devi (90 km/3 hr drive from kathgodam railway station, you can take a local bus from the railway station).
You can visit Kainchi Dham Ashram on the way (Kainchi Dham is a religious pilgrimage centre located at Kainchi
on the Nainital – Almora Road in Uttarakhand. Famous visitors of the temple include Apple founder
Steve Jobs and Facebook founder Mark Zuckerberg.)
Lunch at HOTs Kasar Devi on arrival
Evening visit to kasardevi temple(20 mins walk from the hostel)
Evening high tea at hostel
Bonfire, music and dinner
You can visit Binsar sanctuary on your own after breakfast (The sanctuary is spread over 45.59 km2 and situated at an
altitude varying from 900 to 2500 metres with an average height of 2412 metres. It is located 5 km
from the hostel.)
Picnic style lunch at Binsar sanctuary
Evening high tea at Hostel
Music, story-telling, bonfire and dinner
The trip ends after the breakfast
We love you, therefore our team of hospitality professionals, locals & regional experts have spent thousands of combined hours creating this itinerary.
We would love to help you out with transit from anywhere across the world or any modifications that you may need, just call us on 1800-270-1447 (24 Hours | Toll Free) and a trip curator will assist you.
The itinerary may be modified to accommodate changes in weather and any other factors.

Questions ? Available 24 Hours
Have any questions or need help, contact us at our 24 hour toll free number 1800-270-1447

Community Powered
All trips are powered by a trusted community enabling a unique experience, unlike touristy tours.
tap for LEGAL NOTE
All the above image(s)/creative(s)/iconography & text is owned, licensed or provided by Hots Hostel