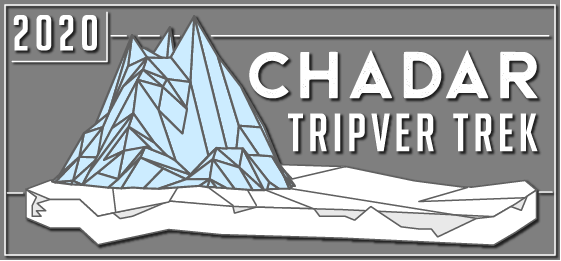 CHADAR TREK By Tripver™
More
The Ice Walk- Chadar Trek in Zanskar is spread over Leh in Jammu and Kashmir. Chadar trek is at an altitude of over 11,000 feet & it takes approx 5-6 days to cover an expanse of 70-75 km. The 5 day long journey on ice between Chilling and Zanskar is exhilarating. Even though this trek is meant for hardcore enthusiasts, it can be an enriching experience for first timers as well. It tests your determination and mental stimulation. 
---
Tripver Original on select weekends in January & February
4 or 5 Days Office Leave Required
Limited Seats Only
Gear up with your backpacks on your shoulder as you say goodbye to your city with happiness in your heart, a smile on your face. Jump into your flight and fasten your seat-belts to restraint your excitement of exploring the Ice Walk Chadar Trek ! 😎As you land at the airport feel mesmerised by the snow-capped mountains all around. Reach your comfy hotel via taxi & sip that hot beverage that you have been craving for whilst admiring the mountains and the simplicity of this town. Spend the day to chilling with you clan while to take rest & acclimatise at high altitude.
Highlights: Arrival in Leh, Chilling, Acclimation 
Day 02 : Acclimatisation Walk
Gear up and wake up early in the morning and begin the process of acclimatisation at high altitude 🏔. Proceed for an acclimatisation walk. Rest of the day is free, so you may also visit Shanti Stupa, a sacred Buddhist stupa, on your own accord, from where you will get an opportunity to witness a beautiful view of the sunrise and a panoramic sight of the town of Leh 😍. Stay hydrated as you spend your first day of the trek in Leh. Take time out to check your gear & procure all the necessary equipment for the trek.
Highlights: Acclimatisation walk, Trek Preparation.
Day 03 : Medical Check-up
Head out post breakfast to nearby Sonam Narbu Hospital to acquire your medical clearance for the trek (Government Mandate).  In the evening take stroll to discover the beauty of Leh. As the city-lights start twinkling link up with your clan to spend an easy evening. Attend the final brief, check your equipment for last time before we hit the final Ice Walk – Chadar Trek.
Highlight: Medical Check Up, Sightseeing, Acclimatisation, Final Trek Preparation
Enjoy tea and breakfast in the morning and start your journey on a bumpy ride  to Shingra Koma. This ride is not for the faint-hearted as bumpy roads and hairpin bends are quite common on this route. The sight of the surrounding high mountains will give you a sense of awe. After a point, you will have to de board from the vehicle and trek towards Somo Paldar campsite. Your Chadar trek expedition starts here.
Highlights: Ride to Shingra Koma, Somo Paldar Campsite, Chadar Trek Expedition Start
Wake up to the sunrise and set out to trek for Dib Cave/Tibb. As you walk further, behold the breathtaking beauty of the region including ravines and gorges. Witness the patches of little sunshine through the steep cliffs as it takes your breath away. We halt at a large cave on reaching Dib. This is the place where you will halt for the night and rest. Keep your self warm with nice butter tea. Enjoy overnight stay at the campsite under the starry night.
Highlight: Trek to Dib Cave, Ravines and Gorges, Butter Tea, Overnight Rest at Dib, Starry night 
Day 06: Starry Night at Naerak
Even seen a frozen waterfall ?  If you haven't today is your life changing moment 😄. You will trek the most scenic part of the region today & get a chance to witness the largest frozen waterfall and prayer flags. The bridge built next to the site of the waterfall is used in summers to reach Zanskar from Leh. We then head towards the village of Naerak to mingle with the locals and understand their way of living. End the day chilling with your clan overnight at the village camp. Rest well today as tomorrow is gonna be one hell of an adventure 😆
Highlights: Naerak Village, Frozen Waterfall, Local Life
We raise the tempo of the trip today. Take a U turn to reach back to Tibb. The return trail is gonna be an ultimate adventure as the river quickly reacts to any change in the temperature & takes an entire new form. 😁 Head out for the perfect insta click as you meet locals wearing traditional woollen Gonchas (robes) & get mesmerised by the beauty of the trek. Upon Dib Cave chill (like literally 😄) at the camp site and enjoy your last evening witnessing the beauty of the snow and the mountains.
Highlights: Return Journey to Tibb, Insta Moments, Locals, Dib Cave
Day 08: Back to Civilization
Today we head out for the last stretch to reach Shingra Koma, crossing Gyalpo. The trail today will give you a chance to witness high mountains and pugmarks of wild animals like snow leopards, ibex and foxes. If lucky, you just might spot a leopard; even if you do not, then at least be sure, you would be watched by them. By evening head back to your hotel in Leh & share experiences of your expedition with your travel clan over a warm cup of beverage😃
Highlights: Shingra Koma, Gyalpo, Pugmarks, Leh Hotel
Day 09: Departure from Leh
Wake up to an unmatchable feeling of achievement and satisfaction. In the morning, check-out to catch your flight back home with a heart full of memories, new friendships & unforgettable experiences…. Miss The Trip Forever & Ever !
Total Nights

8 Nights

Total Trek Distance

 105 K.M (Apx)
All

inclusions

,

exclusions

&

prices

are mentioned on the booking page.
We love you, therefore our team of

hospitality professionals, locals

 &

regional experts

have spent thousands of combined hours creating this itinerary.
Unlike others, Tripver™ has its

own network of Local Transportation liaisons

& propitiatory strict

accommodation quality audits

to ensure a seamless experience.
We would

love to help you

out with transit from

anywhere across the world

or

any modifications

that you may need, just call us on 1800-270-1447 (

24 Hours

| Toll Free) and a trip curator will assist you.
The itinerary may be modified to accommodate changes in weather and any other factors.
👆 curated by your favorite influencers, experts & travel heroes 😎
For customized options across 200+ destinations & 25+ countries call 1800-270-1447 (24 Hours)
4 or 5 Days Office Leave Required For 9 Day Trip
Limited Seats on Weekends

Lowest Price Guarantee
Find the same trip at the cheaper price and we will give you a lower price + extra cashbacks ! *

Hassle Free Payments
Instant Bookings & stress-free payment modes including TravelNow PayLater, go on that trip now and pay in easy installments

The Best Support Ever !
Probably the only Online Travel Platform where you can talk to a human ! so go ahead talk to us on 1800-270-1447, anytime 🙂