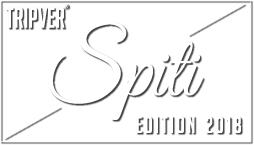 Spiti Explorer Biker By Tripver™
More
Spiti means The Middle Land, i.e. the land between Tibet and India. An explorer centrist trip curated for travelers who would like to explore not visit this unique region of the world. Home to the worlds highest post office, village, unexampled moon Shaped lake, unique flora & fauna & yes a culture that will leave you mesmerized. The explorer itinerary covers Narkanda, Kalpa , Kaza, Tabo, Langza, Kibber, Hikkim, Chandratal, Old Manali & more.
---
Available on any date | Pay only 5000 to reserve
4 to 5 Days Office Leave Required
Limited Seats Only | Customized Options Available
With good vibes and beauty to boot, we'll start our Spiti Trip from Delhi, Hop in to comfortable AC Cabs after dinner (around 11 PM). Meet co riders, say hi and socialise during the overnight chilled out journey.
Note If you are arriving at Delhi from other cities a Tripver™ curator will help you plan the perfect transit, call us on 1800-270-1447 we are always happy to help 🙂
Just as the sun is going up, you will be assigned Bikes specifically modified for Spiti by experts. After a quick briefing, the fleet led by the Road Captain & on-board Mechanic will start the ride towards Shimla. Most of the ride today will be on a National Highway, therefore, making good safe speed. The last few hours of the ride will introduce you to the winding Himalayan roads and by evening you will be at Narkanda (9,000ft approx), where you'll join the rest of the travelers who are traveling by Bus 😉 Rest rejuvenate and make sure to attend our acclimatization & safe travel knowledge session by experts at 7 pm.
Highlights Briefing, Mountain-scape Riding & Knowledge Session
We set-out early morning post breakfast to Kalpa(9,700ft approx). What makes this stretch of the journey so scenic is the fact that the road we take which we ride on, to Kalpa runs parallel to the river Satluj for part of the journey. We stop by for #basic yet scrumptious Rajma Chawal at the famous Dhaba. We reach Kalpa, just in time for some evening tea to be followed by Tripver's Apple Orchard🍎 walk. Evening bonfire & early dinner are key to getting adequate rest before the long ride that follows ahead on the next day.
Highlights Rajma Chawal, Apple Orchard Walk & Bonfire.
Day 4 : A Day On The Road
Early/Packed breakfast, and a quick stop over for Lunch at Nako followed by a long yet scenic ride. In this part of your journey. just when you think the view along the road can't get better, the shape shifting horizon will prove you wrong. Arrive at Tabo Monestary (11,000ft approx) also known as "the Ajanta of the Himalayas", well before the sun sets. Continue the journey to arrive at your humble abode in Kaza(12,000ft approx) and rejoice your arrival by chilling by the bonfire & treat yourself to a hot & appetizing dinner , then dive into your cozy beds for a well deserved rest.
Highlights Nako, Tabo Monestary & Bonfire
Day 5 : Kaza Action Packed
By now you know, this is not a lazy trip, so wake up early to grab a satisfying breakfast and get started to make the most of the day ahead. We begin with a ride to Key Monestary, the biggest monastery of Spiti Valley and a religious training centre for Lamas. Follow it up with step ascending roads that lead you to Langza (14,500ft approx) and truly experience a heavenly feeling. Mail postcards to loved ones from Hikkim, the world's highest post office before diving into a maggie break/packed lunch post which we do a mandatory quick Group Insta moment at Kibber, the World's highest village to return straight for a tasteful dinner.
Highlights Key Monestary, Langza , Medicine Buddha, Hikkim , Kibber
Day 6 : Journey to the Moon Lake
Bid adieu post early morning breakfast to Kaza and your hosts.  The scenic yet off beat ride alongside Spiti river and tricky roads leading to Chandratal will prove your driver's skills. This stretch is indeed the journey's most adventurous , and leads to the most beautiful part of the journey, i.e. to Chandratal. Arrive just in time for lunch at the campsite , drop your bags, and depending on the road condition ahead of the camps, ride or take a short hike to the serene crescent shaped Chandratal lake😍 Upon return to campsite, catch up over board games or stories under the a studded sky.
Highlights  Chandratal Lake, Star Gazing
Day 7 : Crossing the Passes
Wake up and have a hearty breakfast meal, the famous Kunzum Pass(15,000ft approx) and ride through the treacherous Gramphu & stop by for lunch en-route before crossing Rothang Pass (13,000ft approx) . Take it easy for the evening and just have a lazy evening in Manali for a change.
Highlights Kunzum La & Rothang Pass
In the morning post breakfast, your Trip Captain will take you through some kickass cafes, as the food we usually take for granted 🍕, hasn't been accessible as much as one would have liked it to be. Post lunch, feel free to head to the hot spring at Vashishtha, chill by Beas river or Paraglide at Solang. Make sure though, that you're back at the hotel well in time, so you  are well rested before the next day's ride.
Before bed, exchange and upload (#Tripver & @Tripver) to show the friends that couldn't make it, what they missed out on .
Highlights: Old Manali Cafe Crawl & Self Exploration/metime
Begin your ride early morning till Chandigarh, a quick breakfast en-route & cabs in the evening from Chandigarh to reach Delhi to reach around midnight or wee hours the next day.  Miss this trip forever and ever!
Total Nights

 8 Nights – however this trip is designed in a way that it starts after office hours on day 1 and you reach back before office hours on day 11. So technically you need just 5 days office leave.

Total Distance

 1800 K.M (Apx)
All

inclusions

,

exclusions

&

prices

are mentioned on the booking page.
We love you, therefore our team of

hospitality professionals, locals

 &

regional experts

have spent thousands of combined hours creating this itinerary.
Unlike others, Tripver™ has its

own network of Local Transportation liaisons

& propitiatory strict

accommodation quality audits

to ensure a seamless experience.
We would

love to help you

out with transit from

anywhere across the world

or

any modifications

that you may need, just call us on 1800-270-1447 (

24 Hours

| Toll Free) and a trip curator will assist you.
The itinerary may be modified to accommodate changes in weather and any other factors.
or View a different itinerary :
---
Available on any date
2 to 5 Days Office Leave Required
Limited Seats Only.
The above image(s)/creative(s)/iconography & text is owned or licensed by Community Tripver Private Limited. If any of the above said elements/style is reproduced or copied without prior written permission from Community Tripver Private Limited, necessary legal action will be taken. If you wish to use any of the above works for non-commercial purposes you can write to us at a@tripver.com, we may grant permission without any commercial clauses. 

Questions ? Available 24 Hours
If you have any questions or need help , contact us at our 24 hour toll free number 1800-270-1447

Quality Controlled & Standardized
Tripver's unique 21 point quality audit check ensures you receive best in class stay & travel.

Community Powered
All trips are powered by a trusted community enabling a unique experience, unlike touristy tours.