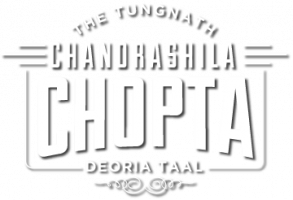 Chopta, Deoria Taal & Chandrashila
Tap to Know More
Amidst the gorgeous 7000m peaks of Chamoli district in Uttrakhand, lies the majestic Chandrashila, a trekkable 4000m summit which can be classified as one of the best treks in Uttrakhand. This becomes even better when the trek is extended and we get a chance to camp at one of the most beautiful lakes of Uttrakhand, known as Deoriataal. Legend has it, that it was Deoriataal where Yaksha confronted the Pandavas with his questions. Another mesmerizing fact about this trek is that you get to trek up to Tungnath which is the world's highest Shiv temple.
---
Zero or 1 Days Office Leave Required
Price Starts at ₹ 6499 – Limited Seats Subject to Availability
Day 1 : Delhi-Sari- Deoriataal
Arrival at Sari, Trek to Deoria Taal
We will be stopping on the way for Lunch and Breakfast.
Sari is a gorgeous village situated in the Chamoli district of Uttrakhand famous for its step cultivation and warm people. We will be resting here for a washroom break and post that, we will tighten our back straps and hike up to Deoriataal (2-3 km over a period of 1 hour).
Deoriataal is one of the most beautiful places in Uttrakhand overlooked by majestic peaks of Nandakot, Kedar Dome, Chaukhamba and many more. We will be camping at the banks of the lake followed by tea and dinner.
Day 2 : Deoriataal - Sari - Chopta - Chandrashila - Chopta
Trek back to Sari, Drive to Chopta, Trek to Chandrashila/Tungnath & back
Wake up to a splendid sunrise, while the snow-clad peaks around you get lighted by the first rays of the day. Sip some tea followed by an early breakfast. We will hike down now to Sari (23 km over a period of 40 min). Our taxis will pick us up from Sari and take us to our base camp Chopta. We will be staying at guest houses here. Please note that Chopta is quite remote and these guest houses are not fancy. They will have basic facilities like running water, washrooms and hygienic bedding. Alternatively, camping can also be arranged. After checking in, we will be trekking up to Chandrashila. We will stop for Lunch at Tungnath. Chances are that you might experience snowfall here. We will continue our hike to Chandrashila from here (5 km in total over a period of 3 hours).
At Chandrashila you will be summiting a peak of 4000 m with a panoramic view of mountain ranges. And yes, if you are trekking for the first time, this can be your official first summit: D We will descend to Chopta now (5 km in total over a period of 2 hours). At Chopta, dinner will be arranged followed by some bonfire, music, and magic.
Day 3 : Chopta- Rishikesh - Delhi
Drive from Chopta to Rishikesh, Start for Delhi
Wake up late followed by power breakfast.
Chopta is known as the mini Switzerland of India, due to its breathtaking flora while being surrounded by big 6500m peaks. This is your last chance to admire the appealing scenic beauty of flora and fauna until you're back again for another visit to Chopta.
Time to say goodbye to our local hosts!
After packing our bags, our taxis will take us back to Rishikesh by evening. Overnight journey to Delhi.
Day 4 is when you come back! The day is all yours because it's morning.
At this time, most you would love to take long naps but we will keep bugging while we pass by landscapes. Well! Who would want to miss amazing selfies on the trip?
We board the Volvo to Delhi the previous evening only to reach home this morning 🙂
Total Trip Nights

3 Nights
Chandrashila is the best 4000 m climb in any of the mountain ranges in India
Tungnath is the highest Shiva temple in the world, with unique architecture.At Chandrashila you will see the best perennial view in all of Uttrakhand.
---
One or Zero Days Office Leave Required For 4 Day Trip
Limited Seats on Weekends
tap for LEGAL NOTE
All the above image(s)/creative(s)/iconography & text is owned, licensed or provided by KT Adventure & Sports LLP.