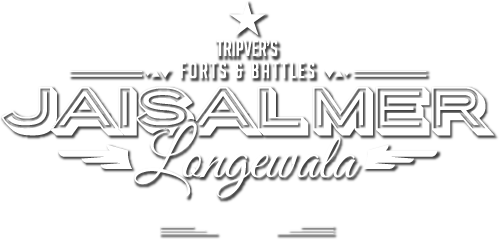 Jaisalmer & Longewala By Tripver™
Tap to Know More
The Battle at Laungewala (Subject of the movie Border) is known as one of the most glorious battles in modern history. The sands of Laungewala witnessed 120 brave Indian foot soldiers equipped with just 1 Jeep win a battle against 2000 Pakistani soldiers equipped with 45 modern tanks & more than 150 other vehicles .
To relive India's glory, we travel exclusively to this very battlefield (you heard it right) where destroyed enemy tanks and vehicles witness to the fury and determination of India are still scattered in the sand. Come with us for a unique and never before experience with Tripver.
---
Tripver Originals on select weekends | Personalized & Customized trips available for any date.
None or One Day's Office Leave Required
Price Starts at ₹ 3999 – Limited Seats Subject to Availability

---
For customized options across 200+ destinations & 25+ countries call 1800-270-1447 (24 Hours)
One or Zero Days Office Leave Required For 4 Day Trip
Limited Seats on Weekends

Questions ? Available 24 Hours
If you have any questions or need help , contact our 24 hour toll free number 1800-270-1447

Quality Controlled & Standardized
Tripver's unique 21 point quality audit check ensures you receive best in class stay & travel.

Community Powered
Trips are co-created by a trusted community enabling unique experiences.
tap for LEGAL NOTE
All the above image(s)/creative(s)/iconography & text is owned or licensed by Community Tripver Private Limited. If any of the above said elements/style is reproduced or copied without prior written permission from Community Tripver Private Limited, necessary legal action will be taken. If you wish to use any of the above works for non-commercial purposes you can write to us at trip@tripver.com, we may grant permission without any commercial clauses.