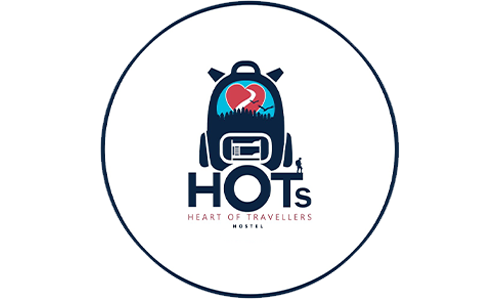 NAINITAL – JEOLIKOTE BY HOTS HOSTEL
Tap to Know More
HOTs Hostel is a chain of unique, design-led, theme-based experiential hostel situated in unexplored locations.
---

1 or 2 Days Office Leave Required
Price Starts at ₹2,100 – Limited Seats Subject to Availability
Arrive at kathgodam railway station or bus station from Delhi (around 285 km from Delhi). Onward drive to HOTs
Hostel Jeolikote (18 km drive from kathgodam railway station).
Arrival at HOTs Jeolikote (800 meters hike to reach the hostel)
Freshen up,settle down and enjoy delicious local breakfast at hostel.
Water lagoon visit (20 mins easy trek)
Lunch (Veg local lunch)
Leisure time(explore the forest or play some outdoor/indoor game)
Evening High Tea
Night trek with torches/Moonlight (30 mins jungle trek)
Bonfire, story-telling, music, dinner
Enjoy your delicious breakfast amid lush greenery of the hostel
Full day is to explore the hill retreat of Nainital. It is blessed with scenic natural splendour and varied
natural resources. Visit to Nainital, cave gardens,high altitude zoo, Snow view point, cheena peak,
Mall road, Boating , Cable Car Ride etc. Back to hostel just before evening tea.
Evening high tea at hostel
Bonfire, story-telling, music, dinner
The trip ends after the breakfast
We love you, therefore our team of hospitality professionals, locals & regional experts have spent thousands of combined hours creating this itinerary.
We would love to help you out with transit from anywhere across the world or any modifications that you may need, just call us on 1800-270-1447 (24 Hours | Toll Free) and a trip curator will assist you.
The itinerary may be modified to accommodate changes in weather and any other factors.

Questions ? Available 24 Hours
Have any questions or need help, contact us at our 24 hour toll free number 1800-270-1447

Community Powered
All trips are powered by a trusted community enabling a unique experience, unlike touristy tours.
tap for LEGAL NOTE
All the above image(s)/creative(s)/iconography & text is owned, licensed or provided by Hots Hostel