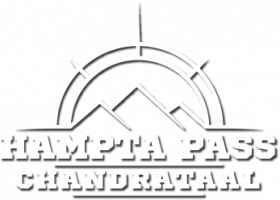 Hampta Pass & Chandrataal
Tap to Know More
Hampta Pass is one of the most beautiful and rich trek covering parts of Kullu and Lahaul & Spiti Districts of Himachal Pradesh. Also known as gateway to Spiti valley, it offers diverse views of nature with scenes ranging from beautiful flower valleys, gushing waterfalls, glaciers and some dense forests of pine and cedar And after the trek, drive till the Chandratal Lake in Spiti valley is a must have experience!
---
Price Starts at ₹ 9999 – Limited Seats Subject to Availability
This is pure trek therefore it has a destination based itinerary :
Day 1 Manali bus stand to Jobri Nalla & Short Trek to Jobra
Distance Covered 21 Kilometers
Terrain Type Meadows
Day 2 Trek from Jobra to Chika
Distance Covered 7 Kilometers Moderate Trek
Terrain Type Forest

Day 3 Trek from Chika to Balu Ka Gera
Distance Covered 8 Kilometers Moderate Trek
Terrain Type Rocky + Meadows

Day 4 Trek from Balu ka Gera to Hampta Pass to Shea Goru
Distance Covered 10 Kilometers Difficult
Terrain Type Rocky

Day 5 Trek from Shera Goru to Chatru + Drive to Chandrataal Lake & Back to Chatru
Distance Covered 7 Kilometers Moderate Trek + Drive
Terrain Type Rocky

Day 6 Chandrataal to Manali by Road
We have special menus designed you to give you all the essential nutrients making sure you have a perfect trek.
We understand that after a tough day of trekking, our body is in dire need of nutrients. Keeping that in mind, we design our food menu in such a way that all the nutrients are replenished. For Hampta Pass trek, our kitchen staff prepares fresh food at each of campsites
Following is usual schedule/menu of meals provided:
Morning Tea
Breakfast
Porridge & Bread with Jam & Butter, or,
Porridge & Plain Ajwain Parantha with Dry vegetable, or,
Porridge & Poori Chana, or, Porridge & Poha with tomato ketchup
Packed Lunch
Plain Ajwain Parantha with Dry vegetable and Pickle, or,
Vegetable Pulav, or,
Poori with Dry vegetable
Dry rations
Juice and Cream Biscuits, or,
Frooti/Maaza and Chocolate, or,
Fresh Fruit and Biscuits
Evening snacks
Maggi/Pasta/Mix vegetable Pakore with Tea
Soup (Tomatao/Vegetable/Sweet Corn/Veg Manchow) with popcorn
Dinner
Rice & Chapati with 2 vegetables (1 dry and 1 with curry),
Papad and Pickle,
Sweetdish
Special Tents + Sleeping Bags Included
Special Tents Included
Tents we own have been tested successfully in different weather conditions be it harsh snow or heavy rains.
We have different tents according to occupancy from single person to 5 people. (Please inform us in advance in case you wish to opt for
a more than 3-person tent)
After each trek, we clean our tents thoroughly and dry them under sun.
Special Sleeping Bags
Our Sleeping bags are specially customized by our team to handle any kind of weather.
Inner material of our sleeping bags in down feather which can help you sustain temperatures as low as -15 to -20 degrees Celsius.
All the sleeping bags have detachable inner fleece liners which can be removed especially for summer months.
Length of sleeping bags is such that a person of upto 6 feet and 2 inches can be comfortable.
We have different kinds of insulated mattresses according to weather conditions. For summer months, we use mattresses of 3 to 5 mm in thickness whereas for winters, we use 8 mm ones.
We have a team of professional Trek leads and guides who are well versed with the region and keep safety of everyone as primary focus
All of our trek leads and guides are experienced in leading treks across various terrains and in different weather conditions
All our trek leads and guides are equipped with basic first aid kit to react and respond in case of emergencies. If you face any medical issue at any time on the trek or at the campsite, please do not hesitate to get in touch with respective trek lead/guide
For Hampta Pass trek, our medical kit also contains portable oxygen cylinders. Though we want that no one needs oxygen but in some cases, there might be need of providing oxygen as trek moves above 12000 feet (usually this is the altitude above which oxygen level start to diminish)
On our comparatively shorter trekking days, we organize meditation/stretching or Taichi sessions.
We believe that meditation helps in re-energizing an individual both mentally and physically. We also use Tibetan meditation bowls to get relaxed and restore the energy after a tough day of trek.
In addition, stretching helps in reducing the stress and relaxing the muscles post the trek.
---
One or Zero Days Office Leave Required For 4 Day Trip
Limited Seats on Weekends
tap for LEGAL NOTE
All the above image(s)/creative(s)/iconography & text is owned, licensed or provided by KT Adventure & Sports LLP.